Zona Indy 2015 (1) Resultados, Notícias e Cards | Alberto del Rio estreia na Lucha Underground & WWE interessada em Adam Cole & Vince Russo regressa ao wrestling
É o regresso do Zona Indy com o melhor do wrestling independente. O espaço de hoje apresenta os resultados do fim-de-semana que teve como destaque gravações de TV da Lucha Underground e ainda um interessante show da wXw na Alemanha. Completa o espaço um conjunto de notícias do panorama independente com destaque para contratações da WWE, Alberto del Rio, etc. Foco ainda para os cards do próximo fim de semana da ROH e Chikara....


Lucha Underground "Gravações de TV"
17 de Janeiro de 2014 - Lucha Underground Temple, Boyle Heights, Los Angeles, Califórnia)
Episódio 1
2. Angélico venceu Son of Havoc
3. Drago venceu Aerostar
4. 4) Pentagón Jr. venceu Famous B
5. #1-Contenders - Match Cage venceu Johnny Mundo
Episodio 2
1. 6) Fénix venceu Argenis
2. 7) Johnny Mundo venceu Son of Havoc
3. 8) Pentagón Jr. venceu Ricky Mandell
4. El Patrón Alberto na posse do AAA Mega Unified Heavyweight Championship estreia-se no show para um segmento com El Texano Jr.
wXw Back 2 the Roots XIV
17 de Janeiro de 2014 - Steffy, Oberhausen
1. Absolute Andy venceu Peter Fischer via A-Klasse (13:20).
2. The Piledrivers (Karsten Beck e Mr. Sha Samuels) venceram Eugene e Grado via Schoolboy de Sha em Eugene (13:56).
3. Axel Dieter Jr. venceu Drew Gulak (18:23).
4. wXw Shotgun Championship, 3 Way Dance: "Bad Bones" John Klinger (C) venceu Axel "Axeman" Tischer e Ilja Dragunov via Wrecking Ball Knees em Axeman (15:02).
5. .Lucas di Leo venceu The Rotation via Side Suplex into Facebuster (6:07).
6. Tommy End venceu Will Ospreay via Double Foot Stomp (11:08) para ganhar um spot no 16 Carat Gold 2015 .
7. Streetfight: AUTsiders (Big Daddy Walter e Robert Dreissker) e PROST (Mike Schwarz e Toby Blunt) venceram Keel Holding (Sasa Keel, Aaron Insane,
8. wXw Unified World Wrestling Championship: Karsten Beck venceu Big Daddy Walter (C) com a ajuda de Vince Russo
PWX "Taken By Force II"
17 de Janeiro de 2014 - Hickory, NC
1. American Tiger e Chase Brown derrotaram Drew Meyers e Tim Donst via Submission
2. PWX Innovative Television Championship Three Way - Billy Brash (c) venceu Chip Day e Joe Black
3. Uhaa Nation vs. Moose Ojinnaka terminou em Double Countout
4. Amanda Rodriguez venceu Alexish Parrish
5. Country Jacked (Adam Page e Corey Hollis) derrotaram Anthony Henry e Jaxson James
6. Zane Riley venceu Greg Excellent
7. Worst Case Scenario (Ethan Case e Elijah Evans IV) derrotaram The Bravado Brothers (Harlem e Lancelot Bravado)
8. John Skyler venceu Chuck Taylor via Sliced Bread
Alpha-1 Wrestling: "MatRats"
18 de Janeiro de 2014 - Hamilton, OC
1. A1 Zero Gravity Championship - Rickey Shane Page (c) venceu Eric Ryan
2. Ethan Page venceu RD Evans
3. A1 Tag Team Championship - Four Way Elimination - Gym Rats (Scotty O'Shea e Alessandro Del Bruno) derrotaram Goat Brigade (Kirk Warmack e Shane Sabre), The Opression (Lionel Knight e Justin Sane) e 3.0 (Shane Matthews e Scott Parker)
4. "Gauntlet For the Gold" Eight Man Scramble Match - Kingdom James venceu Tyler Thomas, Joshua Rogen, Rhys Greenaway, Steve Brown, Ashley Sixx, Eric Cairnie e Ty Colton
5. First Time Ever - Seleziya Sparx venceu Allysin Kay
6. A1 Alpha Male Championship - Brent Banks (c) venceu Cedric Alexander e Josh Alexander
---------------------------------------------------------Noticias + Cards ---------------------------------------------------------
Segundo fontes a WWE ainda tem forte interesse em contratar o antigo campeão da ROH Adam Cole. Cole que foi submetido recentemente a uma cirurgia ao ombro e espera ficar em condições de ser contratado pela WWE após a temporada da Wrestlemania.
Cole ser contratado pela WWE não é um assunto fechado mas há interesse das duas partes. Cole indicou que poderá renovar contrato com a ROH mas o acordo ainda não foi estabelecido e ele não tem pressa para o fazer.
A WWE também está interessada em contratar o antigo lutador da TNA Tommy "Crimson" Mercer que teve um tryout recentemente em Orlando.

O antigo campeão da WWE Alberto "El Patron" Del Rio fez este fim-de-semana a sua estreia na Lucha Underground durante as gravações de TV que aconteceram em Los Angeles.

A promotora lançou o seguinte comunicado oficial:

'LUCHA UNDERGROUND' SIGNS AAA WORLD HEAVYWEIGHT CHAMPION ALBERTO EL PATRÓN

January 17, 2015, Los Angeles - Lucha Underground" has signed AAA World Heavyweight Champion Alberto El Patrón it was announced today by "Lucha Underground" the new Lucha Libre wrestling franchise from Emmy Award®-winning producer Mark Burnett, United Artists Media Group, Robert Rodriguez and FactoryMade Ventures. The Mexican professional wrestler and mixed martial artist competed in his first match in Los Angeles today, January 17th. "Lucha Underground" airs Wednesday nights at 8:00pm on El Rey Network and on Saturdays at 4:00 pm in Spanish on UniMás.

"We are thrilled to have Alberto El Patrón join 'Lucha Underground'" said Executive Producer and Showrunner Eric Van Wagenen. "He is a bold and exciting luchador who delivers attitude and skill. He is a very welcome addition to our roster."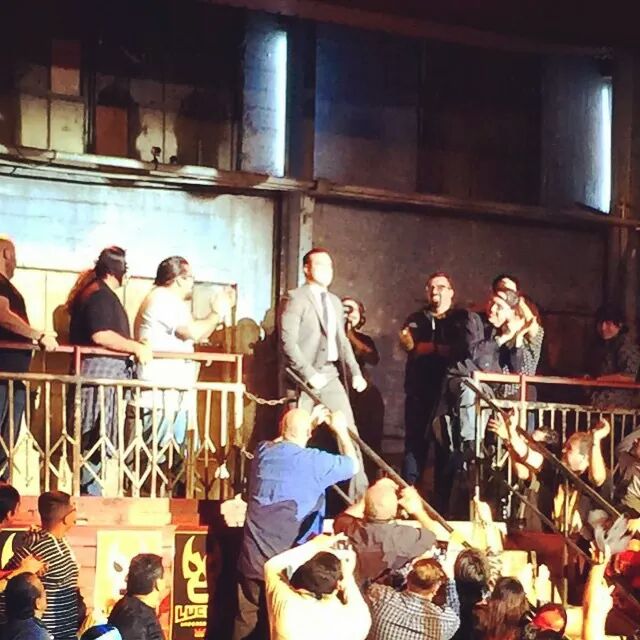 Vince Russo fez este fim-de-semana a sua estreia na promotora alemã Westside Xtreme Wrestling. Russo estreou-se no evento numa storyline em que foi apresentado como um investidor misterioso da promotora e marcou um combate de Karsten Beck contra o campeão da promotora Big Daddy Walter. Durante o combate, Walter foi atacado com o título e Russo tirou a sua camisa para revelar uma t-shirt de árbitro e contabilizar a vitória de Beck que se tornou o novo campeão.
A Ring of Honor anunciou que Alberto el Patron irá estar presente nas gravações de TV que acontecerão a 4 de Janeiro em San Antonio. Del Rio irá estar presente ainda nos eventos de 30 e 31 de Janeiro bem como de 1 de Março.
Tadarius Thomas irá terminar a sua ligação á Ring of Honor no show de 30 de Janeiro em Dearborn. Thomas pretende voltar ao MMA e para além disso tem um tryout com a WWE no próximo camp que a promotora fará.
Matt Sydal defendeu AJ Styles das críticas que ele tem vindo a ser alvo devido às inúmeras lesões que os seus adversários sofreram. Sydal em entrevista ao The Roman Show disse:
"Anyone who says when you wrestle AJ Styles to be careful is a moron. He is possibly the best pro wrestling at this very instance. You can't deny he is top 5. Its not ballet. I've wrestled him a ton of times. No accidents no problem."
Jeff Jarrett e a GFW estão em negociações com a New Japan Pro Wrestling para que o seu próximo grande evento o Invasion Attack que acontecerá a 5 de Abril seja transmitido em PPV nos Estados Unidos.
A NJPW e a GFW já mostraram interesse que Jim Ross e Matt Striker continuem a providenciar os comentários ingleses aos shows mas se o PPV for transmitido, os comentários serão feitos em estúdio ao contrário do Wrestle Kingdom 9 que teve comentários in loco no Tokyo Dome.
O próximo evento da Pro Wrestling Guerrilla acontecerá no dia 27 de Fevereiro e tem o seguinte card até ao momento:
PWG World Title - Roderick Strong (c) vs. Trevor Lee
Brian Cage e Uhaa Nation vs. Young Bucks
"Speedball" Mike Bailey vs. Biff Busick
Drew Gulak vs. Chris Hero
A Wrestlecon, a convenção de wrestling que acontecerá no fim-de-semana da Wrestlemania anunciou que acontecerá um grande combate de equipas no evento e onde Rob Van Dam e Sabu enfrentarão os The Hardy Boys. Esta será a primeira vez desde 2006 que Van Dam e Sabu farão equipa e as duas equipas só se defrontaram por uma vez na WWE no já longínquo ano de 1998 e onde os Hardys estavam longe de ser estrelas da WWE.
Um triple treath match de sonho envolvendo Ultimo Dragon, Ricochet e Juventud Guerra foi anunciado para o torneio King of Indies que acontecerá no fim-de-semana da Wrestlemania 31. O torneio terá nomes como El Mariachi, Dylan Drake, Jody Kristofferson, Jeckles, Rey Horus (formerly Hijo del Rey Misterio), B-Boy, "Mr Athletic" Jeff Cobb e Vincenzo Massaro. Este é um torneio histórico no panorama independente norte-americano pois o torneio de 2001 foi o que deu origem à fundação da Ring of Honor em 2002.
No próximo fim-de-semana acontecerá o show Winter Warriors da Ring of Honor. O card do evento é o seguinte:
Six Man Tag Team Match


The Bullet Club (AJ Styles e The Young Bucks) vs ACH, Matt Sydal e Cedric Alexander



Six Person Intergender Tag Team Match


The Briscoes e ODB vs Matt Taven, Michael Bennett e Maria Kanellis

Unbreakable Michael Elgin vs Moose

Sicilian Psychopath Tommaso Ciampa vs Jimmy Jacobs
A Chikara irá ter o show de abertura da sua temporada e apresentará o A New Start. O card é o seguinte:
For the Grand Championship of CHIKARA!
Icarus vs. Chuck Taylor
Six-Man Tag Team Explosion!
The Colony (Worker Ant/Silver Ant/Fire Ant) vs. Jakob Hammermeier/Pinkie Sanchez/Soldier Ant
Sidney Bakabella's Open Challenge!
The Throwbacks/Shynron/Jervis Cottonbelly/Princess Kimberlee vs. Blaster McMassive/Max Smashmaster/Flex Rumblecrunch/Jaka/Oleg the Usurper
The Former Grand Champion vs. The Former Kid Cyclone!
Eddie Kingston vs. Kevin Condron
The Ghoulish vs. The Ghastly!
The Batiri vs. Hallowicked/Frightmare
For All the Points!
Ophidian vs. Nøkken
First Time Ever!
Race Jaxon/Hype Rockwell vs. Missile Assault Ant/Arctic Rescue Ant
One on One!
UltraMantis Black vs. Juan Francisco de Coronado